Research Results
release date:2016.11.29
Fish fauna of Inle Lake, a representative ancient lake of Southeast Asia, has been recovered for the first time in a century
Research Results Engineering
 Inle (Inlay) Lake, an ancient lake of Southeast Asia, is located at the eastern part of Myanmar, surrounded by the Shan Mountains. Detailed information on fish fauna in and around the lake has long been unknown, although its outstanding endemism was reported a century ago.
 Based on the fish specimens collected from markets, rivers, swamps, ponds and ditches around Inle Lake as well as from the lake itself from 2014 to 2016, we recorded a total of 948 occurrence data (2120 individuals), belonging to 10 orders, 19 families, 39 genera and 49 species. Amongst them, 13 species of 12 genera are endemic or nearly endemic to the lake system and 17 species of 16 genera are suggested as non-native. The data are all accessible from the document "A dataset of Inle Lake fish fauna and its distribution (http://ipt.pensoft.net/resource.do?r=inle_fish_2014-16)", as well as DNA barcoding data (mitochondrial COI) for all species being available from the DDBJ/EMBL/GenBank (Accession numbers: LC189568–LC190411). Live photographs of almost all the individuals and CT/3D model data of several specimens are also available at the graphical fish biodiversity database (http://ffish.asia/INLE2016; http://ffish.asia/INLE2016-3D).
 The information can benefit the clarification, public concern and conservation of the fish biodiversity in the region.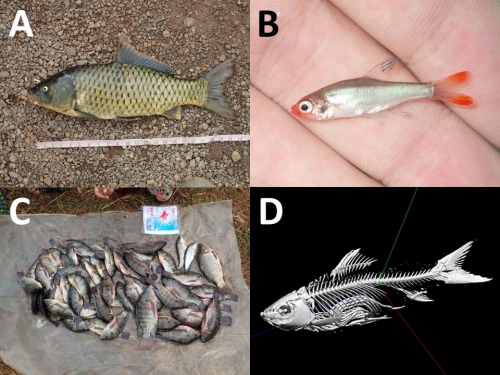 1) Cyprinus intha, an "ancient carp" inhabiting natively in Inle Lake.
2) Celestichthys margaritatus, a famous aquarium fish of Inle Lake.
3) Individuals of tilapia fish sold at a local market.
4) An example of 3D model publicized online.
Research-related inquiries
Yuichi Kano, Associate Professor, Institute of Decision Science for Sustainable Society