Topics
release date:2014.05.22
Soyuz return to Earth - Public viewing
Topics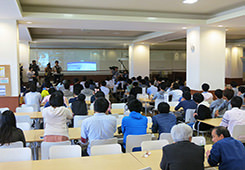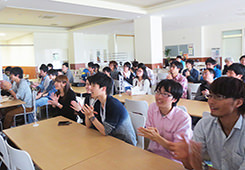 On May 14, 2014 (Wednesday), Koichi Wakata, one of our notable alumni and the first Japanese commander of the International Space Station (ISS), returned to earth in a Russian Soyuz Spacecraft after a six- month stay in outer space.
  A public viewing of the event was held at the "Big Sand" underground restaurant on the Ito Campus, with a live Internet broadcast provided by the Japan Aerospace Exploration Agency (JAXA) on a huge TV screen, where nearly 100 students and teachers were gathered.
  The Soyuz (spacecraft) landed in Kazakhstan at 10:58 a.m. as scheduled. When a successful landing was announced, the hall was filled with a burst of applause and cheers.

  This event was planned by the public relations office's student staff, as were the previous public viewing event of the launch of the Soyuz on November 7, 2013, and the real-time communications event on February 4, 2014
  The whole of Kyushu University will continue to support astronaut Wakata to carry on his challenge and mission.


[Photos]
Students at public viewing event