Topics
release date:2014.05.08
Kyushu University Manabi-tai Joins the Parade at Hakata Dontaku Festival
Topics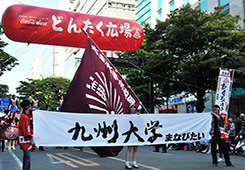 On May 3, 2014 (Saturday), a group consisting of about 200 Kyushu University students and staff members, known as the Kyushu University Manabi-tai, joined the Hakata Dontaku Minato Matsuri Festival parade. Hakata Dontaku is an annual tradition for Fukuoka citizens.
 This year, for the group's fifth time participating in the parade, a festival committee mainly composed of students made a parade plan with the slogan, "Come on, Imo-Q!"

 The nickname "Imo-Q" represents students of Kyushu University who might not be the most skillful individuals but are passionate about learning a wide range of knowledge, and participating in Club, Volunteering, and Social activities.

 Members of the committee, along with students and faculty members, marched in the parade with the performances by ETOILES cheerleaders and their cheering group. While marchers in originally designed Happi coats were dancing and singing school songs with thunder sticks in their hands, dormitory students and alumni carried the Dormitory's traditional portable shrine. Favored by good weather and with applause and cheering from spectators along the road, the parade event went very well.
【Photo】
Kyushu University Manabi-tai marched in the Dontaku parade