Topics
release date:2014.09.30
Dr. Arikawa Steps Down as University President
Topics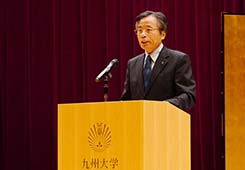 On Monday, September 29, 2014, the farewell ceremony for University President Dr. Setsuo Arikawa and the Executive Vice Presidents was held at the SHIIKI HALL, ahead of the end of their terms of office on the last day of September.
 Dr. Arikawa was appointed 22nd President of Kyushu University on October 1, 2008 and has spared no effort in his efforts to further the university's development, providing strong leadership for a variety of reforms undertaken during his six-year term of office, which ends on September 30, 2014. During this time, he has overseen the development of the Ito Campus and the relocation of various parts of the university to this new campus, the Centennial Anniversary Project to commemorate the centenary of the university's founding, the establishment of the Distinguished Professor system and the University Reform and Revitalization System, Global 30 and other internationalization initiatives, and the introduction of KIKAN Education.
 At the farewell ceremony, Executive Vice President Shunichi Maruno and Ryutaro Sakai, Chairman of the Kyushu University Sports Union respectively delivered words of thanks on behalf of the university's officers and staff, and students, following a performance by the Kyushu University Philharmonic Orchestra.

 Next, Dr. Arikawa and Executive Vice Presidents Yukio Fujiki, Katsumi Imaizumi, Hidetoshi Ochiai, and Ritsuko Kikukawa each delivered their parting address. In his speech, Dr. Arikawa said, "Everything I've done has been based on the belief that creating an environment in which students, staff and faculty members can apply themselves diligently to their studies and duties with confidence and pride is of paramount importance." "Universities can be reformed independently and autonomously through our own will. I've undertaken various initiatives to demonstrate this." "Under my successor, Dr. Kubo, I want you to do your utmost to implement initiatives as part of the Top Global University Project, for which we were selected just the other day." "Over the last six years, I've felt tremendously supported by the splendid activities of our student body and the understanding, assistance, and energy of staff and faculty members alike." "Although I'm leaving the university, I shall continue to observe everyone's achievements with the utmost enjoyment."
 After the farewell ceremony, the secretaries of the outgoing president and executive vice presidents presented each of them with a bouquet of flowers, after which the university's cheer squad gave a rousing performance. The 500 or so students, staff, and faculty members in attendance then gathered for a commemorative photograph before Dr. Arikawa and the executive vice presidents left the venue, shaking hands with many of the students, staff and faculty members as they went.
【Photo】
(Top) Dr. Arikawa gives his parting address before stepping down as university president
(Bottom) Commemorative photograph with participants