Feature Articles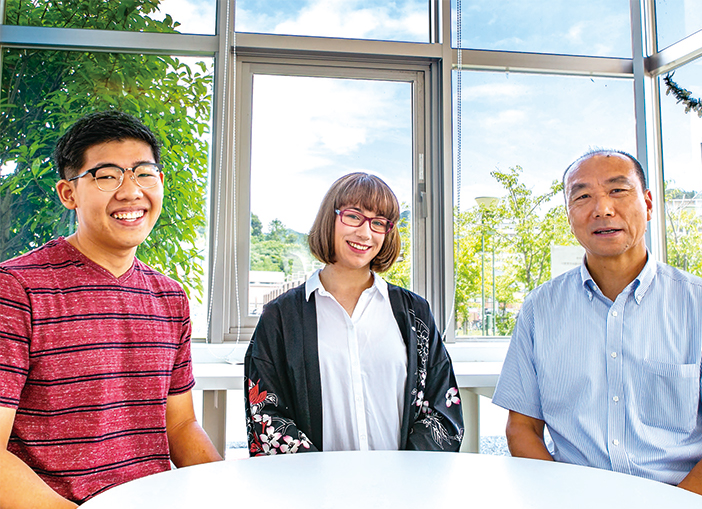 Unique Academic Opportunities & Support for International Students from Arrival to Graduation
Unique Academic Opportunities & Support for International Students from Arrival to Graduation
Prof. Guo: What made you choose Kyushu University?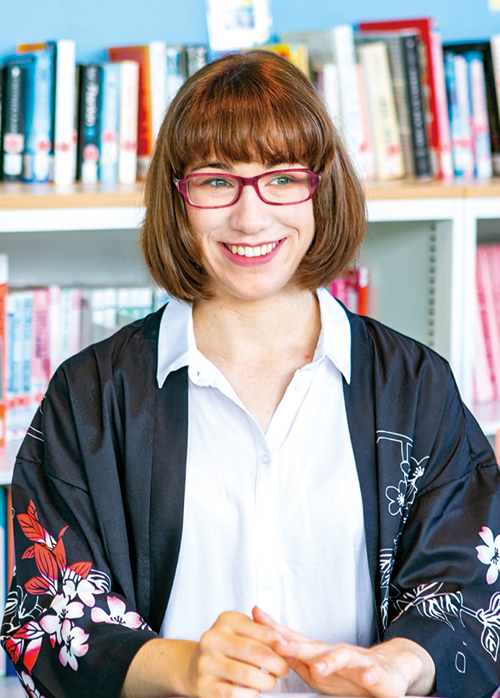 Sabrina Emrich
Sabrina is from Germany. She has always been interested in Japanese culture and wanted to study the language.
Emrich: When I started looking into living and studying in Japan, I was drawn to Kyushu University because of its high academic standard. I thought that I could get a proper education here.
Lee: For me, I was mainly drawn to the School of Interdisciplinary Science and Innovation, which integrates the humanities and social science with the natural sciences. While doing research on the top universities in Japan, Kyushu University and the School of Interdisciplinary Science and Innovation really stood out. This kind of interdisciplinary faculty is something you don't see at other universities in Japan. I was attracted to the idea that I could study a wide range of fields both in science and the humanities. Presentations, group work, and speeches play a large role in the required courses, which I think is different from other faculties as well. From year one, you get comfortable giving presentations and speeches, which is an important skill to have once you graduate and start working. I also feel close to my professors, and the atmosphere is warm and friendly.
Emrich: I'm studying in the Japanese Language and Culture Course. Culture classes last for one year, which is a perfect length. That's what I like about this program—it's more than just learning a language. In some classes, we read Japanese novels. In others, we learn about diversity within the Japanese language. This has really helped my reading comprehension and made it much easier to read books and academic publications. There are also classes where we learn about libraries or make Japanese sweets, and once a week, there is a class where you get to interact with Japanese students. You also have the chance to visit lots of sightseeing spots and experience many different aspects of Japanese culture. When I first came to Kyushu University, I thought, "Wow, it's in the middle of nowhere!" But it has turned out to be a fantastic learning environment, and I've really been able to focus on my studies here.
Prof. Guo: So what kinds of topics do you tackle at the School of Interdisciplinary Science and Innovation?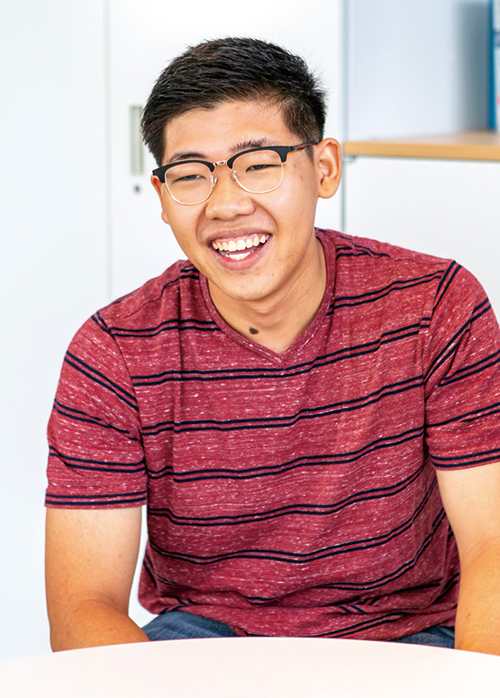 Ken Ji Lee
Ken Ji is from Malaysia. Since his mother is Japanese, he wanted to make use of his Japanese ability and study abroad.
Lee: Well, for our basic project for Interdisciplinary Science and Innovation, which changes its topics once every three weeks, we split into groups where we try to find solutions to real-world issues. For example, we hold a mock United Nations to debate international problems like Tonlé Sap in Cambodia, the Gaza–Israel conflict, child labor, and work stress. These debates culminate in a final presentation in front of the class. This helps us build teamwork and presentation skills and requires us to have an understanding of both the scientific and humanitarian aspects behind the issues, so we learn a lot.
Prof. Guo: What is your impression of the students you study with?
Lee: The students at the School of Interdisciplinary Science and Innovation are all self-starters, which I think is impressive. Everyone is so unique. Since Kyushu University is one of Japan's best universities, I thought all students ever did here was study. But soon after I arrived, I was pleasantly surprised to find that Kyushu University students also actively participate in off-campus activities, internships, studying abroad and so on. Everyone is friendly, so it's a great environment.
Prof. Guo: What are your living situations like?
Lee: I'm staying in the Kyudai Buddha Blue Dormitory. Rent is affordable, and the dorm comes with two meals a day. Everyone gets along and chats with each other in the cafeteria every day.
Emrich: I live in a dormitory managed by the university. The resident manager and my fellow dorm mates are nice, and I get to interact with plenty of different people, so I never feel lonely. I have my own single room, too, which is nice and clean. There's a road where I go jogging and a gym with a pool where I go swimming almost every day.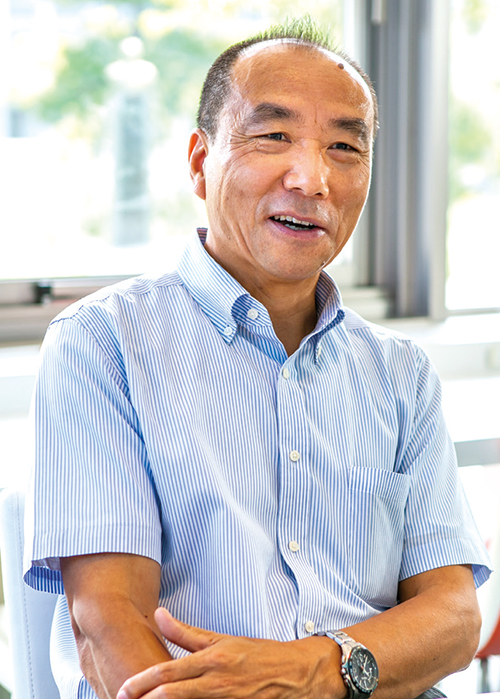 Prof. Guo: How do you find the support for international students?
Emrich: The staff at the International Affairs Department is friendly and always eager to help students. When I first came to Japan, I was worried whether I would be able to get a scholarship, but the International Affairs Department went out of their way to help me to find one. It's reassuring to know that I don't have to worry about doing everything by myself. I also appreciate the fact that there are International Student Support Team1 and shuttle services2 for international students. It gives me peace of mind knowing that I can always go ask for advice and talk with the tutors.
Prof. Guo: What are your plans after studying at Kyushu University?
Emrich: I want to work for a company with ties to Japan and save up enough money to come back and study at Kyushu University again. I want to continue studying geography at graduate school so I can get a job that helps build bridges between different countries.
Lee: My first choice would be getting a job. I speak five languages, so I would like to join a Japanese company where I can use my language skills once I graduate. I would really like to find a job that will allow me to travel around the world.
1 International Student Support Team, which is organized in each department and consists of both Japanese students and international students who have already settled down in Fukuoka, assists new international students to start their new lives in Fukuoka smoothly.
2 The shuttle bus service will be provided between "Fukuoka airport/Hakata port" and "Ito dormitory 1,2,3/Ito Harmony House" for newly enrolled internatonal students.

This interview first appeared in the inaugural issue of Kyushu University's English-language magazine
Connect
.
View the full issue online
for more information about research and academics at Kyushu University.