Students win Chinese Speech Contest
Release date: 2019.06.11
Kyushu University students take the top two places the southern regional of the 2019 Japan Chinese Speech Contest
Kyushu University students put their Chinese skills on display and placed first and second at the southern regional of the 2019 Japan Chinese Speech Contest for Japanese University Students, held at Nagasaki University on Saturday, June 1, 2019. Tasked with speaking on the topic of either "How to promote communication between young people in Japan and China" or "The whole world is a family," eleven students from around the Kyushu region, including five from Kyushu University, delivered speeches with high level of fluency and expressiveness.

Miss Atsumi Kimura, a first-year master's student in the Graduate School of Humanities, received top honors for her speech that travelled back to the experiences her laboratory's founding professor, Prof. Makoto Mekada, had studying in China 80 years ago before fast-forwarding to her strong aspirations for her own research activities today.

Speaking about his experiences communicating with international students at the Chinese Language Table he attends, Mr. Keiya Yamanishi, a second-year student in the School of Letters took home second place. He explained how his realization that he had difficulty introducing Japanese culture and history to his companions in not only Chinese but also Japanese despite them having taught him about their background drove him to communicate more in both languages.

The contest was hosted by Chinese Professors Conference in Japan, co-sponsored by Nagasaki University, and supported by Consulate-General of the People's Republic of China in Nagasaki. Kimura and Yamanishi, along with the third-place speaker, will now go on to participate in the final country-wide contest held in Tokyo.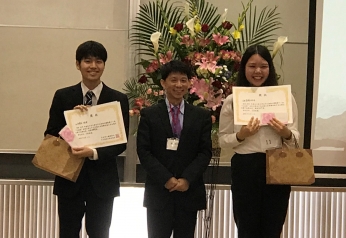 For more information
Professor Satoshi Nakasatomi (Faculty of Languages and Cultures)
Email:naka★flc.kyushu-u.ac.jp
Assistant Professor Biao Liu (Faculty of Languages and Cultures)
Email:liu★flc.kyushu-u.ac.jp

※ Please replace ★ with @