Exploring the latest in research data services and research impact measurements with the University of Illinois at Urbana-Champaign University Library
Release date: 2020.02.14
Events jointly organized by the Kyushu University Library and the Department of Library Science in the Graduate School of Integrated Frontier Sciences during three days in December brought advances in research data services and research impact assessment to the forefront for the researchers, students, and librarians from around Japan in attendance by featuring three visitors from the University of Illinois at Urbana-Champaign University Library.

The speakers from the University of Illinois at Urbana-Champaign University Library, whose visit was organized under the framework of the Memorandum of Understanding for collaboration and strategic partnership between Kyushu U and University of Illinois at Urbana-Champaign (Illinois), shared their unique experiences managing and developing services at the largest public university research library in the United States.

The Illinois University Library has developed and provides advanced research data services to campus faculty and graduate students to organize and share data as well as to comply with United States federal agency data mandates. Collaborations between the library and scientists at Illinois have deepened the library's ability to utilize library resources to measure and assess research impacts from publications, grants, patents, conference presentations and the other scholarly communications methods, making the Illinois University Library an excellent model for university libraries around the world.
The first of the events was the Research Data Services in Universities Symposium held December 5. Following opening remarks from Kazuo Miyamoto, director of the Kyushu University Library, Heidi Imker, director of Library Research Data Services at Illinois, introduced the research data services at Illinois. William H. Mischo, director of the Grainger Engineering Library Information Center at Illinois, and Mary C. Schlembach, chemistry and physical sciences librarian at Illinois, then introduced and outlined data management services and practices for researchers.



Next, Yoichi Tomiura, deputy director of the Kyushu University Library and director of the Science and Technology Library, kicked off a panel discussion with a brief overview of the current situation of and issues related to research data management and open data in Japan. Emi Ishita, associate professor at the Research and Development Division of the Kyushu University Library, moderated the panel, which featured four panelists and symposium participants actively discussing the direction of research data services at Japanese universities. The symposium was attended by 66 participants, with 22 coming from other Japanese universities and institutions.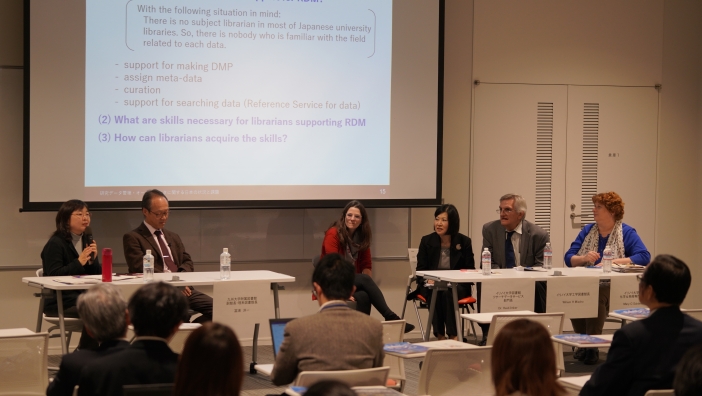 On December 6, a hands-on workshop was held as a joint event to the previous day's symposium. This workshop consisted of three sessions focusing on the meaning of research data, data policy in academic journals, and curation of research data. The workshop provided the knowledge and skills for providing research data services at universities in practice. The 40 participants, which included 18 from other Japanese institutions, were divided into different tables, each having at least one librarian, one student, and one researcher for their respective insights and experiences. At the encouragement of Imker, the main instructor, each session included a group exercise to give the participants an American-style experience. Each table discussed specific questions and shared their observations at the end of each session.

Finally, a seminar titled "Research Impact Measurements" was held on December 9. Opening remarks were given by Masato Wakayama, Executive Vice President of Kyushu University*. Reitumetse Obakeng Mabokela, Vice Provost for International Relations and Global Strategy at Illinois, briefly introduced the continuing international strategies at Kyushu U and Illinois. Then, Mischo and Schlembach gave a talk titled "The use and assessment of research impact measures in the University" and led an active question-and-answer session for the 35 participants from Kyushu University and an additional participant from off campus.

The three days of events were all coordinated and arranged by Ishita.

Lecture and workshop materials are available in the Kyushu University Institutional Repository (QIR) at
http://hdl.handle.net/2324/2547228
http://hdl.handle.net/2324/2547229


*Title and affiliation when event took place