Optimism a driving force in research success
Kubo Let me congratulate you on being awarded the 2019 Nobel Prize in Chemistry. It is an honor to have you involved in education and research here at Kyushu University as a Distinguished University Professor. I'd like to start by asking what you think the most significant factors were that led to your work on lithium-ion batteries being honored with the Nobel Prize?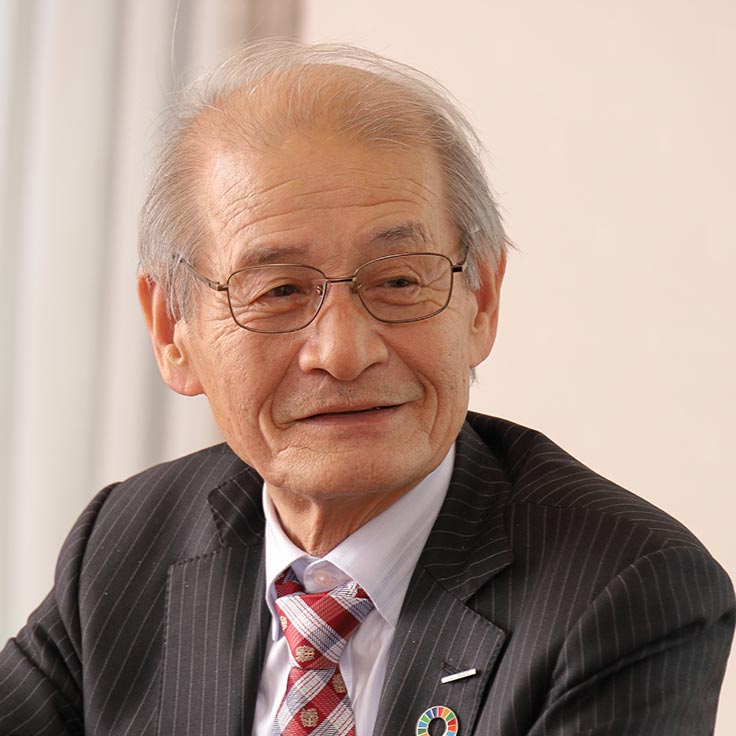 Akira Yoshino
Distinguished University Professor,
Kyushu University
Born January 30, 1948, in Suita, Osaka. Professor Yoshino is an honorary fellow of Asahi Kasei Co., Ltd., and was awarded the 2019 Nobel Prize in Chemistry and the Order of Culture as one of the inventors of lithium-ion batteries. After serving as a visiting professor at Kyushu University in 2013, he assumed his current position of Distinguished University Professor as of December 2019.
Yoshino Well, I think that, through the years, lithium-ion battery technology has happened to be in the right place at the right time. The biggest thing was the rise of a market for lithium-ion batteries. The batteries came out in the early 1990s, a time when mobile phones were still relatively uncommon, and at first, they didn't sell at all. But by 1995, the world had begun its transformation into a technology-fueled information society, which contributed to a rapid increase in demand. The right circumstances just happened to present themselves. And I think it helped that we always stayed positive, even if we hit a wall, and were able to push forward with a sense of optimism.
2025 a turning point for lithium-ion battery technology
Kubo What can we expect the future of lithium-ion batteries to look like?
Yoshino I think the next turning point in lithium-ion technology will come around the year 2025. I believe that the type of demand for lithium-ion batteries will gradually start to change around that time. In my lecture, I talked about how car-sharing reduces each person's burden on the environment. But on the other hand, the more a car is shared, the more it's driven, and the more long-term durability it requires. A single individual may drive a car 10,000 kilometers a year. But that same car may cover 100,000 kilometers if shared by ten people. Lithium-ion batteries will be used and abused, so durability is bound to become more important than cost.
If you hit a wall, find room to breathe
Kubo You have been doing corporate research for years. Have you noticed any differences between basic research in academia and industry?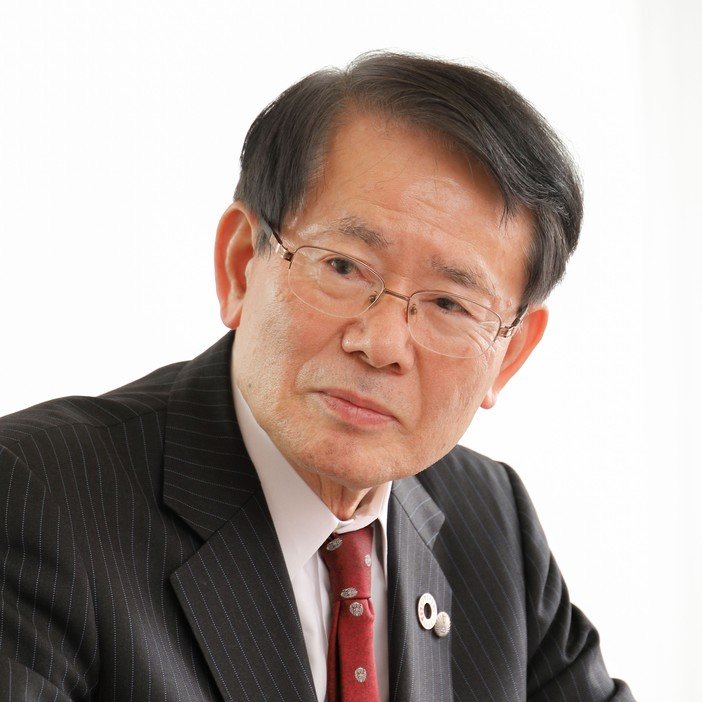 Chiharu Kubo
President,
Kyushu University
Born March 9, 1948, in Kagoshima City. President Kubo entered the Department of Psychosomatic Medicine at the Kyushu University School of Medicine before working at the Oklahoma Medical Research Foundation in the United States from 1982 to 1984. He became a professor of psychosomatic medicine at Kyushu University's Faculty of Medicine in 1993. He served as director of Kyushu University Hospital from 2008 to 2014 and has served as President of Kyushu University since October 2014.
Yoshino They share a name, but I think the research itself is quite different. Basic research driven by curiosity in pursuit of some empirical truth belongs in academia, wouldn't you say? But these basic research findings may or may not have potential applications. Research that does have the potential for practical use is handed off to industry, at which point it becomes "basic research" for a corporate lab.
Universities are better suited for basic research, while companies are better with R&D and applied research. The goals of applied research change with situations around the world, so you have to be able to change trajectory every time the situation changes, which companies are better able to do.
Kubo Universities are currently promoting industry-academia collaborations and cross-appointment systems.1
Yoshino Yes, and I think that's a good thing. Hopefully, these collaborations will produce major successes. I think that would make things even more exciting.
Kubo I'm curious. What do you do when you hit a wall?
Yoshino I think there are two ways that I overcome obstacles. I either steel myself and try to brainstorm as many ideas as possible, or create some breathing room for myself, a safe space that encourages inspiration to strike. And I would say that, for myself, there has been more of the latter. While it may not work for everyone, I have made a point never to discuss work when I'm at home. If you don't make a point to take time off, you'll wear yourself out.
Kubo What do you do in your time off?
Yoshino On Saturdays, I play tennis, and on Sundays, I try to relax, both mentally and physically. I don't have to do much else around the house, so I'm very grateful to my wife. (laughs)
Understanding future trends is more important today than ever before.
-Professor Yoshino
Understanding future trends is more important today than ever before.
-Professor Yoshino
Kubo Family support is important, isn't it? What kind of corporate support do you have?
Yoshino Well, it depends on the stage of the research. Basic research is often a solitary task. It requires self-management, and you have to work out budgets and things for yourself. But once you reach the R&D phase, budgets increase, and the research could involve anywhere between 10 and 30 people. So different stages of research require different kinds of support.
Kubo Isn't it challenging to manage such a large group of people
Yoshino In my experience, tacit understanding can only occur in groups of up to three people. I feel like a group of three is the most efficient organizational unit. One person at the top with two reliable people working under them. When your team starts to grow, you add two people under each of the previous two, creating a series of triangles. These triangular units allow for smooth communication, and if each triangle focuses on doing its job, the whole team can understand each other and work together without the need for large meetings.
AI as a solution: A powerful tool to combat climate change
Kubo The Sustainable Development Goals (SDGs) are now attracting a lot of attention. What do you think is necessary to realize a sustainable society?
Yoshino I think innovation is essential. We need to develop new technologies that integrate environmental-friendliness, convenience, and economy. Right now, we are experiencing problems such as global warming and severe and unusual weather, and environmentally friendly technologies will undoubtedly create new industries. I think things will start moving quickly, and AI, in particular, will be a powerful tool to combat climate change once this trend is established.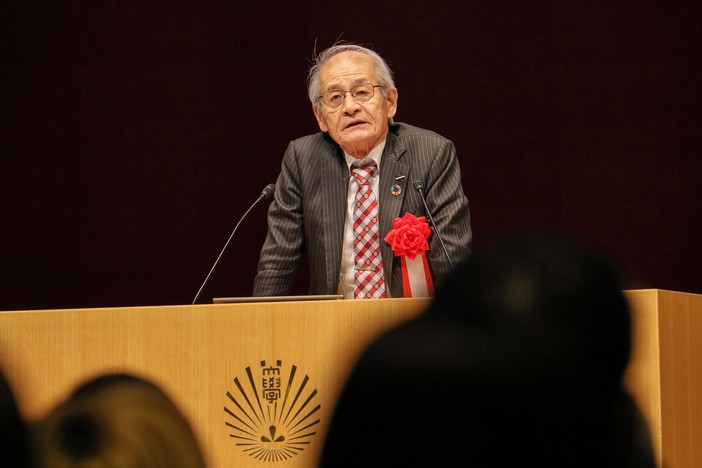 Professor Yoshino gives a Special Lecture commemorating his Nobel Prize in Chemistry at the Chikushi Symposium during Kyushu University Energy Week
Kubo One of my hobbies is the game Go, so you can imagine my surprise when the world champion first lost to an AI opponent. How do you think we'll deal with AI in the future?
Yoshino I don't think of AI as being more or less than human. I also don't think we need to entertain alarmist ideas like an AI takeover of humanity, although we will make a similar mistake if we come to expect too much from these AI technologies. Humans have been doing all kinds of things that put unnecessary strain on the environment. But I think AI will cut out a lot of that waste. What AI and humans have in common is the ability to learn, but both require time to become intelligent. And while we're currently conducting autonomous driving tests, it could take up to fifteen years for that technology to reach consumers. It takes time to train an AI, so it would be better to think of AI as a new and emerging friend to humanity.
Brush up every day by forming new hypotheses
Kubo How do you think education needs to change for students today to thrive in the future?
Yoshino Research inherently looks to the future. We have to think about what we will need five or ten years from now. If you aren't looking far enough ahead, your research may lose its significance, so I think that the ability to predict future trends is crucial.
Kubo Would you say that it's important to keep an eye on fields and specialties other than your own?
Yoshino Yes, I'd say so. I don't believe you can come up with original ideas unless you approach things from outside your field. That said, your first goal should be to gain expertise within your own field. You then need to find a way to connect that expertise to another field. It's especially important to make learning meaningful in order to maintain motivation. That's the challenge: to find the meaning behind learning.
Take a long, hard look at yourself—only then can your personality shine.
-President Kubo
Take a long, hard look at yourself—only then can your personality shine.
-President Kubo
Kubo What kind of outside influences found their way into your lithium-ion battery research?
Yoshino Dr. Kenichi Fukui's2 theory of quantum chemistry formed the basis for how I viewed my research. I think that his theory, coupled with my own experiences, helped me develop my ideas.
Kubo What kind of people do you think will be sought after in the near future?
Yoshino I think society will need more original thinkers who stand out for their personalities.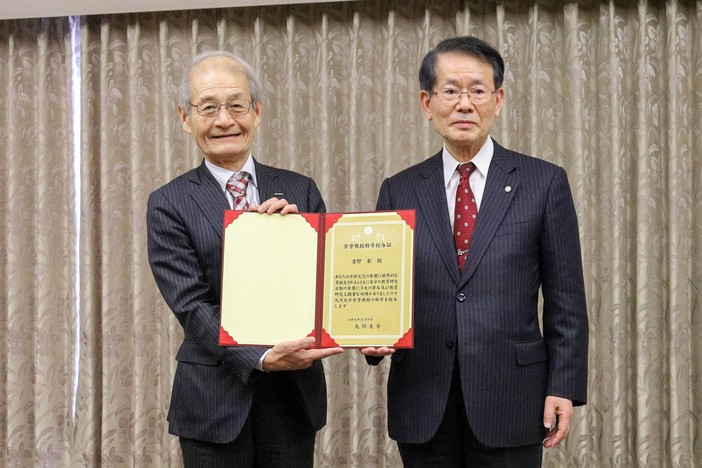 President Kubo with Prof. Yoshino and his Certificate of Distinguished University Professorship
Kubo And how does someone let their personality shine?
Yoshino Well, I think they need to train themselves. For example, even outside of my research, I try to devise experiments that I conduct in my daily life. If after six months my hypothesis is wrong, I try to understand why. Discoveries from these little experiments then inform subsequent hypotheses. It's a kind of training that I feel is important to do on a regular basis.
Kubo So you continue to practice the scientific process even outside of work. Let me share an episode from my own career. When I was working at a research institute in the U.S., I presented several research ideas to my boss at the time, who promptly rejected all of them. He told me, "Stop limiting yourself to what's available in the lab. You can't accomplish first-class research unless you think about what it is you really want to do." I think that your personality will shine once you figure out what you are really interested in and then give it everything you've got.
Yoshino I'd agree. I think setting goals should probably come first.
The world is changing. It's time for young people to step up.
Kubo Could you give a few final words to students and researchers at Kyushu University?
Yoshino The world is changing. Young people are best able to thrive at watershed moments such as these, so I want them to take advantage of the many opportunities currently available to them.
Kubo Thank you very much for today, and I look forward to working together in the future.
This conversation was held on January 31, 2020, in a VIP reception room at Shiiki Hall.
1 This system allows researchers and engineers to engage in research and development and education beyond the boundaries of industry, government, and academia through simultaneous employment by two or more organizations, including public research institutions, universities, and companies. Back to text
2 Professor Emeritus at Kyoto University and the Kyoto Institute of Technology. Doctor of Engineering. Professor Fukui was the first individual from Asia to be awarded the Nobel Prize in Chemistry in 1981. He died in 1998. Professor Yoshino is a pupil of Prof. Fukui's apprentice. Back to text

This article first appeared in the Apr. 2020 issue of
Kyushu University Campus Magazine
(
九大広報
), the university's quarterly Japanese-language magazine.
View the full issue online
for more information in Japanese about the recent happenings at Kyushu University.
Previous Feature Articles